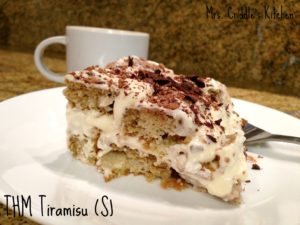 I have had a couple of request to THM a Tiramisu! I THINK I might have done it!!!! The hardest part was trying to get a lady finger type of cake in it. I think I did it! This would have been posted a couple weeks ago but through our move I LOST MY RECIPE… AHHH! I could not remember the ingredients for the life of me. Thanking GOD He helped me find it TODAY! I reworked the thing I needed to rework and here we go!!!
I started with my cake. Preheat your oven to 350 degrees.
Get the dry ingredients ready in the bowl. I used coconut flour for this recipe because I knew it would work better than almond flour for me. I would soak up the coffee liquid without falling apart. You can try it with almond flour (maybe 1/2 a cup more) but just note it might fall apart on you. 🙂 On the coconut flour don't pack into a measuring cup just scoop and shake off excess.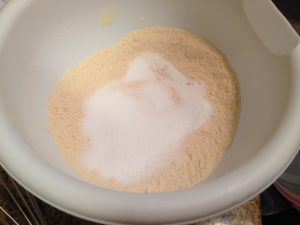 Next add the wet cake ingredients.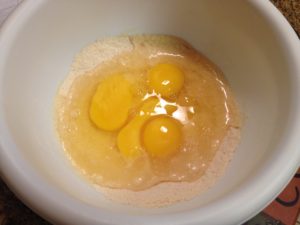 Pour into a greased 9X13 baking dish and bake for 20 minutes.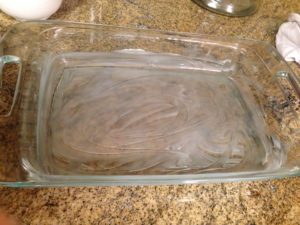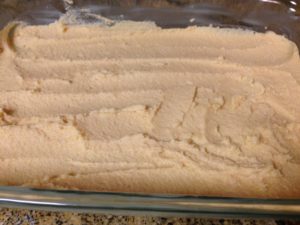 While this bakes you can prepare the filling and coffee mixture.
Whisk egg yolks and sweetener for 5 minutes until it is a lighter color and very airy. I did this by hand because my hand mixer is broken and my kitchenaid bowl was dirty… way to be lazy, haha. ***NOTE- to temper these eggs so that they are not raw… heat up the 4 tablespoons of heavy cream on medium heat in a double boiler and slowly mix in the egg yolk mixture into the cream. Stir.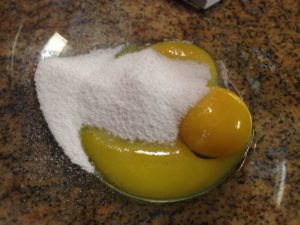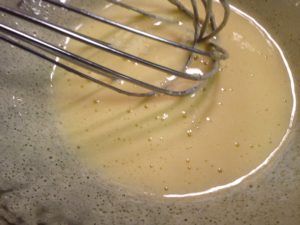 Add room temperature cream cheese to the mixture along with the other ingredients and mix well! (use a hand held mixer please, haha)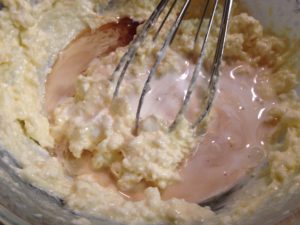 Cake… allow to cool and cut into lady finger sized shapes.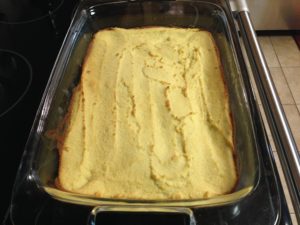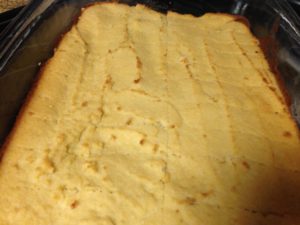 Take the coffee mixture and brush and brush the coffee mix on the cake until it is nice and soaked through.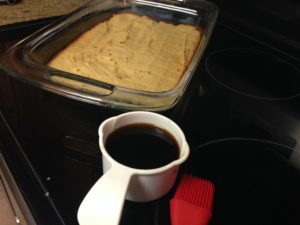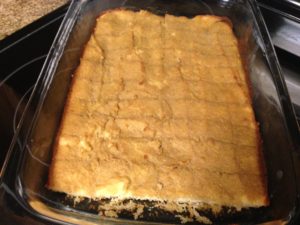 (yes I had to try it)
Next, take the cake and line the bottom of a dish (mine was 9X9 but you could use 8X8 too).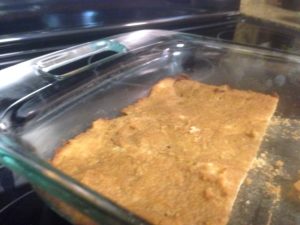 Pour half of the egg yolk, cream cheese mix on top of the cake.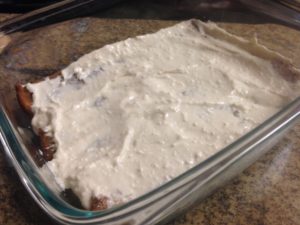 Add the rest of the cake to the top and cover with the remaining cream cheese mix.

Sprinkle cocoa powder and 85% dark chocolate on top. Cut up and ENJOY!!!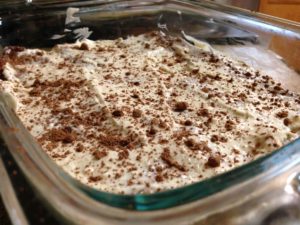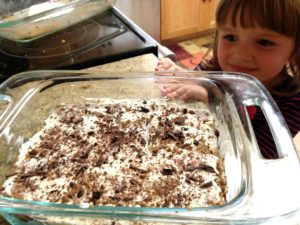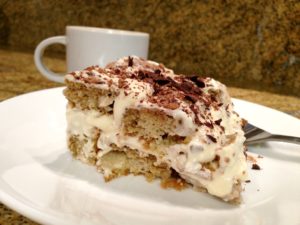 This is an S dessert (only way to eat this in my opinion) if you are one of my fellow THMer's!! Find out about Trim Healthy Mama here!!
Print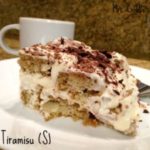 THM Tiramisu (S)
Author:

Cook Time:

20

Total Time:

20
---
Description
A TIRAMISU for the THMer!!! It is also gluten free and lower in carb!! An S dessert!
---
Ingredients
Cake-
1/2 cup store bought coconut flour
1/2 cup melted unsalted butter
4 eggs
1/2 tsp baking soda
3 tbsp. THM Sweet Blend (or you can use 5 tbsp. Truvia or 1/2 cup Xylitol)
1 tsp vanilla
sprinkle of salt
Liquid coffee mixture-
1/2 cup coffee
1 tsp THM Sweet Blend (or twice the amount of your favorite sweetener)
1 tsp vanilla
1/2 tsp rum extract (I don't use the real stuff)
sprinkle of salt (to bring out the flavor)
Cream Filling Mixture-
2 egg yolks
2 tbsp. THM Sweet Blend (or twice as much of your favorite sweetner)
1 tbsp. coffee (room temp)
1- 8 oz package of cream cheese room temp
4 tbsp. of heavy whipping cream
1/2-1 tsp of rum extract (depends on how much rum taste you like)
1 tsp vanilla
Sprinkle of salt
Topping-
1/2 tbsp. cocoa powder
2 pieces of 85% dark chocolate bar chopped fine
---
Instructions
Cake-
Mix dry ingredients till combined.
Add eggs, vanilla and mix.
Add melted butter and mix.
Preheat over to 350 degrees.
Grease a 9X13 baking dish.
Spread batter into pan and bake for 20 minutes.
Take out and run a knife along the edges.
Cut into lady finger shapes.
Brush coffee mixture over the cake with a brush till soaked.
Line the bottom of a 9X9 or 8X8 glass dish with half of the cake.
Cream Filling-
Whisk egg yolks and sweetener together for 5 minutes until light and airy.
Heat up the 4 tablespoons of heavy cream on medium heat in a double boiler not to boiling.
Slowly mix in the egg yolk mixture into the cream. Stir.
Add in the cream cheese and remaining cream ingredients and mix well.
Spread half of the cream mixture over the top of the first cake layer.
Put the rest of the cake layer on top.
Add the remaining cream filling over the top of the last cake layer.
Sprinkle the cocoa powder over the top of the Tiramisu along with the chocolate.
Cut into six to 8 pieces and enjoy!!
---