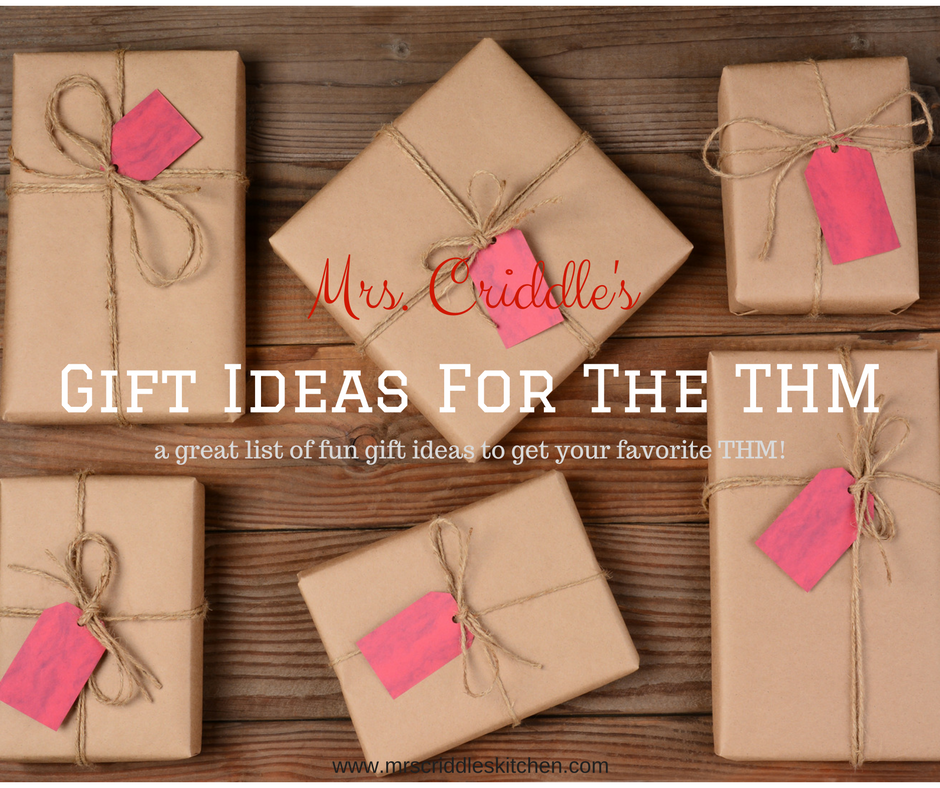 Mrs. Criddle's Gift Ideas for the THM
(This post may contain affiliate links. These affiliate links do not cost you anything extra but help support my blog, if you choose to purchase from one of these links. Thank you for your support!)
This post is to encourage your THM journey by offering help to those who want to help you on your THM journey… that was a mouthful. Basically, these are gift ideas for a THM! What is a THM? For those who may be wondering, a THM is a Trim Healthy Mama who follows the "lifestyle" (not diet) of the Trim Healthy Mama book. You may hear us say things like "on plan", 'off plan", "E meal", "S meal", "FP meal", "doonk", "GGMS", etc etc. It's our healthy eating language. Haha! We love when our love ones support us or even join us… so here are some ideas to help you along with gift giving to the THM!
These are all just fun ideas if you need help thinking of things to get your fellow THM or your THM spouse or family member. None of these are necessary, just more helpful. A lot of these ideas anyone would love! Be sure to ask if they have the Trim Healthy Mama Planbook because that's the place to start! You can make a lovely basket full of some of these fun items! It definitely doesn't have to be expensive!
A fun gift idea for a fellow THM girlfriend would be a GGMS basket. The basket could include a mason jar filled with Oolong Tea with a small bottle of Ginger Powder, a small glass bottle of Bragg's Apple Cider Vinegar, and a small bottle of Sweet Drops Liquid Stevia or a THM Sweetener. You could also include a flavor with it like cherry or lemon to kick it up a little. Not very expensive but a great gift!
How about a Muffin in a Mug basket?! A cute wide-mouth mug, a little whisk and spatula set (at my local HEB in the kitchen goods department, they sell little whisks and spatulas for $2. They are perfect for mugs!), and good quality cocoa powder, and or sweetener! How cute is that idea?
Homemade edible gifts are AMAZING too!! How about some homemade THM goodies?? Pay Off candies, No Bake Cookies, Truffles, Spiced Nuts, Granola, Sour Dough Bread… the list goes on! This is a very loving gift to give!
A great one for the Trim Healthy Man is a BULLETPROOF Coffee Kit! Find a big "manly" mug, a bottle of coconut oil or MCT oil & a bag of great coffee! You could also include a milk frother to get it mixed well (World Market sells them at a great price)!
Here's one more… a skinny chocolate making kit!! Include a small glass jar of coconut oil, a good quality cocoa powder (both easily found at your local store or even Wal-Mart), a fun candy mold, and a sweetener!
PS… if you think of more ideas leave a comment and I will add it to the list!
So here we go, my list of gift IDEAS!
THM Beginners:
For THM beginners the #1 most important thing is the Trim Healthy Mama Planbook!
THM Sweeteners
THM Baking Blend
THM Integral Collagen
THM Whey Protein
Any and All Pioneer Woman Products 🙂
Those are my top 4 picks for a new THMer!
On Plan THM:
An on plan THMer is a lady who has the swing of the THM plan. She knows how to follow but still may have questions.
Homemade THM Goodies!
THM Integral Collagen
THM Baking Blend
THM Whey Protein
THM Peanut Flour
THM Gluccie
THM Gentle Sweet
Spices
Bread or cookies in a Jar (put dry mixes in jars with instructions on what to add & how to bake)
Gift certificate to her favorite clothing store (she/he will be needing new clothes soon)
Any and All Pioneer Woman Products 🙂
Cute papers or notebooks for us to write our menus on
Old-timer THM:
A THM who has been on plan and who has had success, who knows the plan well and the book inside out.
Oven Mits
Any and All Pioneer Woman Products 🙂
Coconut oil
THM Integral Collagen
THM Baking Blend
THM Whey Protein
THM Peanut Flour
Spices
Menu Planner
Yeti Tumbler 30 oz
Gift certificate to her favorite clothing store
Mixing bowls
An apron (why not!)
So there you have it, folks, a list of great gift ideas for the Trim Healthy Mama/Man!