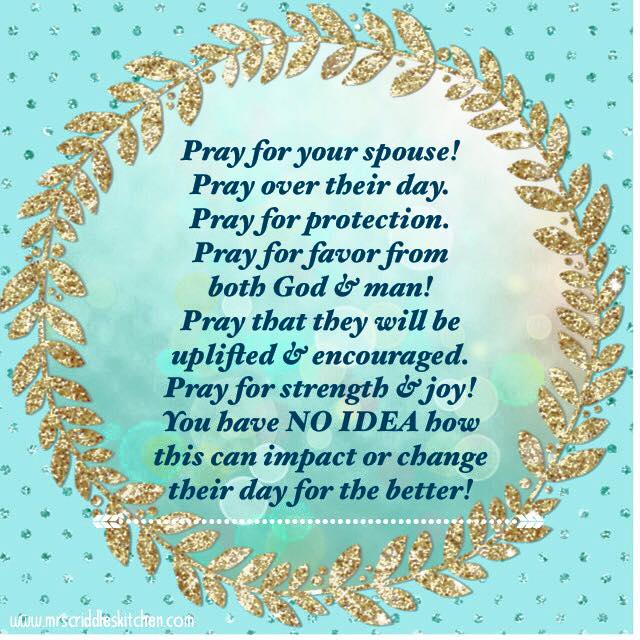 Praying for your Spouse…
Stepping out of the kitchen again with this post…
This was on my heart this morning as I started my husband's work van for him.
I sat in his van for a moment and started praying over it and praying over him.
I want to encourage you to pray for your spouse!
Pray over their Day..
Pray for protection..
Pray for favor from both God and man…
Pray that they will be uplifted and encouraged..
Pray for strength and joy!
You have NO IDEA how this can impact their day for the better!
Prayer for Protection:
My husband is a plumber. Not an extremely dangerous job but because we own our company we have the responsibility of paying for damages if anything happens to a job that my husband had worked on. There has been a few times that my husband has called saying a customer has called with a bad leak. I immediately start praying! You would not believe how many times God has taken care of it and it hasn't been my husband's fault! God totally gets the glory!
You really have NO IDEA how your praying for your spouse can change a situation for them!!
When my husband and I were first married, we tried to pray every morning before he left for work…
One morning, we forgot. I called him when I remembered and we prayed. We were living in North Texas at that time and having a very cold winter. It wasn't 5 minutes after getting off the phone with him that he hit a patch of ice and flipped his van. It was totaled… but my husband crawled out the window with only tiny scratches. WOW! God TOTALLY protected him!!
Prayer for Favor from both GOD & MAN:
What if your prayers for favor bring an opportunity across your spouse's path that is LIFECHANGING. Maybe it gets them favor with their boss or even gets them a completely new job! You have nothing to lose and everything to gain! Pray FAVOR daily over your spouse and NOT just from God (of course this is most important) but from Man also!! Wait and see what God can do! You both will be amazed!
Prayer for them to be uplifted and encouraged:
This is so important! Our husband's (spouses) NEED encouragement and to be uplifted. They provide & protect their family. THIS IS A HARD JOB! Not only that but there is so much out in the world to discourage & beat-down our men. We have to help keep them encouraged!! And we can do this with what we speak too… Our words really do have power!
Prayer for Strength & Joy:
OH goodness yes! I know my husband needs strength to be the husband and father God wants him to be!! Just as I need the strength to be the wife and mother God wants me to be! BUT NOT JUST STRENGTH… we need JOY!!!! And the Joy of the Lord is our strength! So it only makes sense to pray that God give him/you Joy!!!
So, pray, wife… (husband, father, mother, son, daughter, brother, sister, friend)… Pray without ceasing! 1Thess 5:17
Now back to the kitchen…