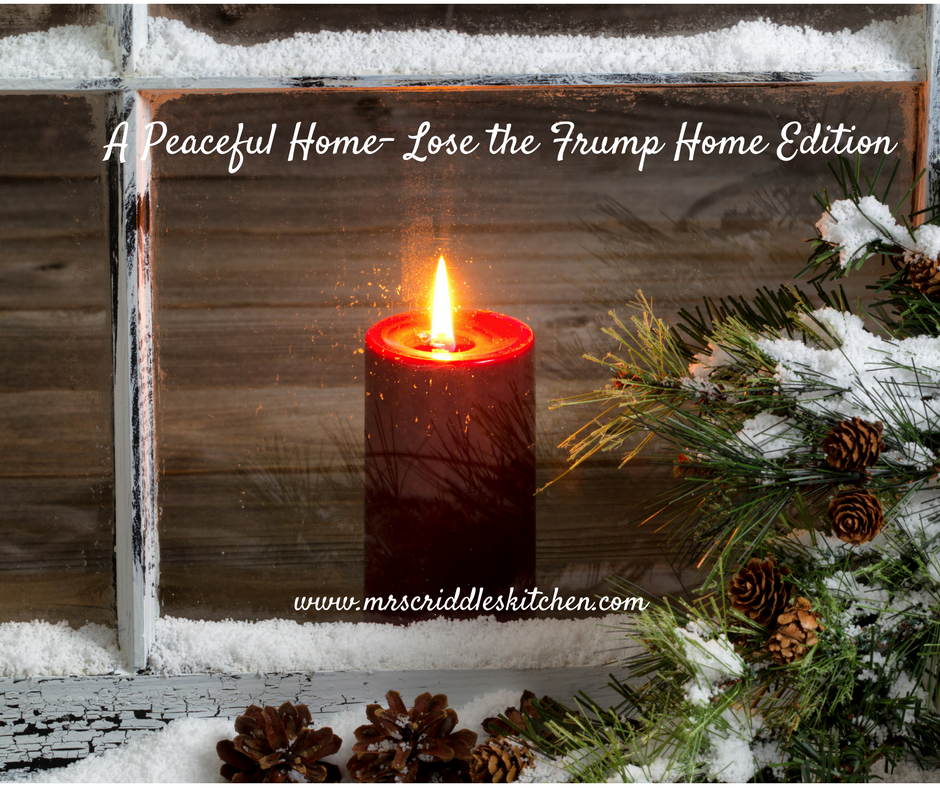 A Peaceful Home- Lose the Frump Home Edition
(this post may contain affiliate links.)
"A home is to be a safe place, a refuge for all who enter, a protection from the harm and storms of the world." – The Lifegiving Home: Creating a Place of Belonging and Becoming by Sally Clarkson
Often time, I have heard, your home is a reflection of your life… ugh, that's a sad scary thought for me. My home can be a chaotically messy dumping ground… but that's because there are 9 people leaving in it, aging from 9 months to 36 years. It's the kids fault… haha..ok, not really. But being so busy with homeschooling, sports season, owning our own business, blogging, babies, life, I've dropped the ball. I'll step right over the crumpled paper or look past the spilled milk and cereal on the floor, allow the trash to pile up in the trash cans until it's 2 ft high, and yes it's taken a while for that line of dust to be an inch thick. LOL ok so maybe not that bad but sometimes it feels that way. I want to be an organized person with an organized clean home but life does happen and sometimes we just get in a funk.
I wanted to start this new challenge, Lose the Frump Home Edition, because it's "that" time of year… my favorite time of year. Time for holidays and family and warmth and friends and fellowship… I LOVE THIS TIME OF YEAR!!
This challenge is going to help us to get our homes in order, clean & ready to be hospitable! We will have daily and weekly challenges.
Our focus is a clean, uncluttered, peaceful home that our family, friends, guests will enjoy and feel the peace of Christ in. Where we won't feel embarrassed or dread when we invite others in. A place to leave our burdens on the doorsteps but not inside our home. At least, we are going to do our best!
I am all about peace. I believe God wants us to live a peaceful life. With all the chaos in the world, all the brokenness, the sadness, we need a place of rest and peace. And how fitting that it be our home. God clearly wants us to have peaceful homes…
Luke 10:5 "Whatever house you enter, first say, "Peace be to this house!""
1 Sam 25:6 "And thus you shall greet him: 'Peace be to you, and peace be to your house, and peace be to all that you have.'"
"Home should be a place where, behind its doors, one should expec to find protection and safety from all the harms of life, including voices that do not speak truth or wisdom." The Lifegiving Home: Creating a Place of Belonging and Becoming by Sally Clarkson
I know there will be times where it won't happen. It just won't. Sickness, life, a new season, etc etc. But if we strive for peace that will only be a short season. Let's strive for peace. God really does want us to have peace…
1 Thess 4:11 Do all you can to live a peaceful life. Take care of your own business, and do your own work as we have already told you.
I do believe that peace starts in our hearts first. If there is anything you know that is taking away from your own peace in your heart, share it with God. Ask Him to take that burden from you. You know from my other challenges that PRAYER is a BIG DEAL with me. Seriously, if you are having any difficulties with peace please take it to Christ!! And let His peace which passes all understanding enter into your heart and then your home! He will help you!! Don't let the enemy steal your joy or your peace! No matter what you are facing, you are not alone! He is right there with you. He is walking every walk with you and fighting every battle for you! He is where our peace rests!
Let's put Him first in our home!
Psalm 127:1-2 Unless the Lord builds the house, they labor in vain who build it.
Matthew 7:4 Whoever hears these teachings of mine and obeys them is like a wise man who built his house on rock.
I've broken the process down into four specific focuses! But first, look around your home. Take a notebook and write down the areas that you feel really need focus.
Because this challenge is so close to the Holidays we are going to choose our battles wisely. We have basically 24 days before Thanksgiving. We are going to do our best to accomplish what we can before the Holidays. We can start again after Thanksgiving to give our Christmas a peaceful feel too.
Some areas that would be good to focus on this month are…. the Master Bedroom (the love room)- this area NEEDS to be peaceful! You sleep here. You definitely want a peaceful sleep.
Next, the KITCHEN. You will spend a lot of time in this room if you are anything like me. The Kitchen, to me, is all about family, fellowship, love.
The Dining Room. And the Bathrooms. And Living Room. After Thanksgiving you might want to work again on some of these areas just to freshen them up but these are our challenges for Thanksgiving.
For December, we will focus on the Living Room again (or Den or where ever you will enjoy Christmas, have your tree set up, your family space), the Kids Rooms (yes, out with the old), Guest Room or Places Guests Might Stay and tidying up all other spaces.
I want you to think of a place you enjoy staying at. A hotel or B&B or place you like to visit. What do you like about this place? Does it smell good? Is it uncluttered and clean? Is breakfast ready when you wake up or at least a station for you to quickly make your own breakfast? What about conveyance? Soap, wash clothes, lotions, pen, paper, everything is readily available to you, easily found too. How can we make our how like more people friendly? There are so many fun ways to make our home feel cozy and radiating love! That's IT! Let's make our homes radiate LOVE!!
"Love is enfleshed in the meals we make, the rooms we fill, the spaces in which we live and breathe and have our being." The Lifegiving Home: Creating a Place of Belonging and Becoming by Sally Clarkson
Don't limit yourself to just these areas. But these areas will be what I am focusing on in this challenge!
Here are our Four Specific Focuses:
Remove what does not belong: Go into your target area and start removing the items that don't belong! Place it in its correct spot. Purge. Trash. This is your first step. In my master bedroom, our kids like to DUMP their stuff. Not sure why, but many times I find my kids shoes, clothes, toys, books, etc hanging out. That does NOT belong in our room. Out it goes. Office "stuff", out. Mail often ends up in our room… try to keep it out. You get the drift.
DECLUTTER! Less is more! If it is old, move it out. If you don't use it, get rid of it. If it needs to be put up or set up, now is the time to do that. If you have frames or decor you've been wanting to put up. Go get your hammer and nails, its time! Also, if you feel there is TOO much going on… tone it down. Make it peaceful. Clear out the clutter. Things don't have to cover the whole wall or table. Pick out your favorite things and pack or get rid of the rest.
CLEAN! Dust, wipe down, clean, vacuum. This should not be hard once your have removed things & decluttered stuff! And we will have daily check lists for this!
PEACEFUL HOME– after we have moved out what doesn't belong, decluttered, and cleaned, it's time to really make your home into a dwelling place of peace. A place where you want to dwell in, rest in, enjoy life in. To me, this is the fun part!
Now here are some ways to make your home peaceful (after the removing, decluttering and cleaning has taken place)…
Fresh sheets on beds- (change your sheets at least once a week to give it the smell you love to sleep in)
Fresh flowers– you don't have to go out and buy flowers all the time but if you can, it really gives your home such a cozy feel. It doesn't have to be flowers, it can be pine cones, or tree branches, etc, get created with your back yard or a park.
Smells– make your home smell lovely!
Foods available– cookies in cookie jars, nuts on the counter, snacks within reach, a breakfast station in the morning for your kids or husband or guests. A tea or coffee station is another great idea.
Soft Music– soft worship or classical or even Christmas music flowing through out your home can create such a cozy atmosphere!
Fluffy blankets or pillows– keep fluffy fresh smelling blankets or pillows available for comfort.
Holiday décor– yes and yes!! Make it a fun cozy for your family! Think back to when you were a kid… what did you love about your home during the holidays? Ask your husband for ideas too!
Those are just a few ideas! My favorite part of this whole challenge is to make my home into a place that my family wants to make memories in. As you are working on each room… pray over that room. Pray for peace to enter the room and His Spirit to dwell. Yes, it is coming back to prayer again, it's just so important!
I hope you have fun doing this challenge! If you would like to join our Lose the Frump Challenge Group you can join it here: https://www.facebook.com/groups/164224313999681/
Here are some fun things you might consider for your home… (affiliate links below)
The Lifegiving Home: Creating a Place of Belonging and Becoming by Sally Clarkson
The Lifegiving Home Experience: A 12-Month Guided Journal
Home Management for the Homeschooling Mom by Amy Roberts